the 4th annual
Taos Writers Conference
Friday, July 24 to Sunday, July 26, 2020
Schedule
Resource for Workshop Leaders:
A guide to teaching for online workshops by James Nave, "How to Teach a Class Using Zoom" – a very helpful guide to
adapting to online teaching via Zoom.
FRIDAY - July 24, 2020
9:00 – 11:30, 1​:00 – 3:30 One-Day Online Intensives
Connie Josefs: Finding Form: Shaping Your memoir
Bob Arellano:  Jumpstart Your Novel
KT Sparks:  Writing & Publishing Flash Prose – In a Flash!
Dawn Davies: The Power of Emulation – How to Steal Like a Writer
Veronica Golos & Catherine Strisik: Breaking Out!
7:00-8:30
Online keynote with Pam Houston, tickets $15.
SATURDAY - July 25, 2020
8:00-9:00

Registration and coffee
9:00-Noon
Sallie Bingham:  Notching it up: Using reading and writing to sharpen your writing skills"
Deanne Stillman:  The Power of Place:  The Role of Landscape in Narrative
James Nave:  How to Produce and Teach a Successful Writing Workshop
Allegra Huston:  Telling Your Story with Heart
Ned Dougherty:  Dialogue Bootcamp

Lunch (on your own), book sales, and roundtable brown bag lunch discussions
2:00-5:00

Kieran Fitzgerald: Choose Your Own Ending:  What we can learn by reimagining the endings of our favorite films
Iris Keltz: Our Dreams, Our Memories, Our Stories
Johanna DeBiase: The Plot Thickens: The Art of Subplot
Juan Morales: Thanks for the Ode
Jenn Shapland: Life Writing from Autobiography to Autofiction
5:00-6:00
Book Sales
7:00-9:00
Faculty Readings and book signing at SOMOS
SUNDAY - July 26, 2020
8:30-9:00
Coffee and book sales
9:00-Noon

Jenny  Sue Kostecki-Shaw:  Writing Children's Books with Author & Illustrator Jenny Sue Kostecki-Shaw
Elizabeth Jacobson: Eco Poetics:  Environmental Writing and Its Foundations
Sean Murphy: Dimension of Fiction, Creative Nonfiction & Memoir
Jean Marie Saporito: The Craft of Revision
Noon-1:00
Book Sales
INTENSIVES
Choose one from the following six, all-day Intensive classes.
Each class runs from 9:00 – 11:30 and 1:00 – 3:30 on Friday only.
Day 1
FRIDAY

July 24, 2020
9:00 – 11:30 and
1:00 – 3:30
WORKSHOPS
Choose one workshop from each time slot for Day 2 and Day 3.
Day 2
SATURDAY
July 25, 2020
9​:00 – 12:00
Sallie Bingham
Notching it up: Using reading and writing to sharpen your writing skills
This can  be applied to any genre although I will be focusing on memoir and short story.
After introductions, we will use the first hour to read aloud and discuss short selections from published work that use words powerfully and in unexpected ways to communicate emotions and create situations and characters.
During the second hour, participants will have an opportunity to write a paragraph that communicates the central scene, character or dilemma they are considering for a longer piece.
During the third hour, we will read aloud and discuss these examples, aiming to encourage the writer and deepen the impact of what she/he has written.
I'm inviting those interested in taking the class to email me up to ten pages of their current project so I can become better informed about their work. I will provide written comments if so desired.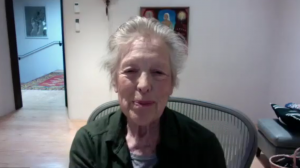 Click the image to watch an interview with Sallie Bingham
Deanne Stillman
The Power of Place:  The Role of Landscape in Narrative
How do landscape and geography influence plot and character? How can they shape the structure and feeling of a story? Whether the landscape of your story is the interior of a car, a mountain range, a kitchen, a big city, or an emotional terrain, it should be portrayed clearly.
This three-hour class with author Deanne Stillman will explore the role of place in narrative in the work of writers like Jon Krakauer, Joyce Carol Oates, and Rick Bass, and how you can apply similar techniques to your own work. Deanne's own work is place-based (generally the Mojave Desert),and will be discussed as well. The second half will focus on how individuals can apply the range of examples to their own works-in-progress, or perhaps lead to new pieces of writing.

"For me, as I always say, the desert is my beat. A place of wide-open space and endless promise, the great American desert has shaped our dreams and our lives. As Wallace Stegner once said, 'the American community is an overnight camp.' 
"Since day one in this country, people have moved West to start over. What happens once they are in the Promised Land is another story. How has the desert shaped their lives? What has it promised? What has it denied? And who are the people – who are we as a nation – who look to wide open space for salvation?
"As I see it, geography determines everything. Those are some of the concepts I'll be talking about in this workshop."
James Navé
How to Produce and Teach a Successful Writing Workshop
Creating a successful writing workshop is possible when you practice basic marketing and teaching strategies like how to generate far-reaching buzz for your workshops or how to facilitate productive question and answer sessions. During this workshop, you'll address these questions and more. In the first part, you'll learn how to choose the right venue, create an effective study plan, and craft an effective marketing strategy. In the second part, you'll explore how to manage introductions, field questions, build a safe space, and create an exceptional narrative flow for your workshop, plus much more. Join us and learn how to produce and teach a successful writing workshop anywhere in the world.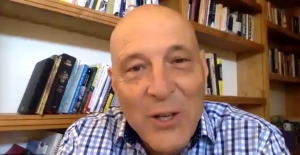 Click the image to watch an interview with James Navé
Allegra Huston
Telling Your Story with Heart
My workshop will focus on memoir, and on infusing story with emotion. I believe that writing only what you know often leads to dull writing; the key is to find what you don't already know, the aspects of your story that haven't already taken solid form. The workshop will include at least three timed writing exercises from prompts that I will give, along with group discussion. All work read aloud will be generated in the workshop, so we will not be critiquing one another's work. We will be looking only for what pops, for nodes of energy in our writing. I guarantee that you will surprise yourself!
Ned Dougherty
Dialogue Bootcamp
In theater, dialogue illuminates what's going on in the world of a play as well as what characters think, feel and believe. Voice is a critical aspect of this illumination as it reframes the world and what the characters want from that world. Through reading compelling scenes and generative writing prompts, participants will explore how our characters can better speak to the reader or audience about the inner life of a story. This class is designed for writers in all genres to explore how speech exposes the idiosyncrasies of our characters in a story or the speaker of our poems.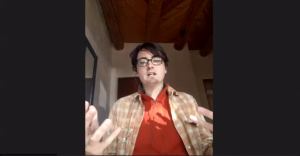 Click the image to watch an interview with Ned Dougherty.
Day 2
SATURDAY
July 25, 2020
2:00 – 5:00
Day 3
SUNDAY
July 26, 2020
9:00 – 12:00
Jenny Sue Kostecki-Shaw
Writing Children's Books with Author & Illustrator Jenny Sue Kostecki-Shaw
In this workshop, you will gain a new appreciation of children's picture books through a brief history of children's picture books and an exploration of some of the best classic and contemporary books.
We'll look at concept-books, fiction and non-fiction picture books. Through examples, we'll hear and see the beauty of mirrored beginnings and endings, as well as the strength of repeated phrases. Together, we will read selected book(s) and map out story arcs that may appear simple and yet are the essential structure that holds a picture book together. We will also analyze picture book(s), a practice that will offer a deeper understanding of what makes a book successful as well as important take-aways for your own writing and story development. We will discus timeless themes and generate new picture book ideas through in-class writing exercises.
I will also walk you through the process of writing and illustrating one of my picture books – from rough manuscript, to thumbnails, book dummy and editing process, to submission to an agent or publisher, to the final printed book. In addition, I will share on-line resources I've collected for writing, editing and publishing picture books. If time allows, together we will workshop a student's early idea or draft, as a collective learning experience. Bring a journal and lots of energy!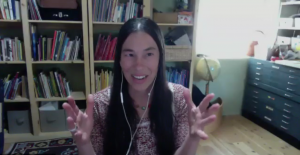 Click the image to watch an interview with Jenny Sue Kostecki-Shaw
Elizabeth Jacobson
Eco Poetics:  Environmental Writing and Its Foundations
For this generative intensive we will focus on Eco Poetics as a subgenre which explores, both in theme and form, the connections between nature, society, language and thought. To begin, we will look at what defines Eco Poetry and why it has its own classification distinct from Romantic Poetry and Nature Poetry. Then we will delve into a survey of contemporary Eco poems using as examples the work of Ada Limon, Sawnie Morris, Sherwin Bitsui, Carl Phillips, Camille Dungy, Dg Nanouk Okpik, Sue Riley, Robert Hass, Jean Toomer, Arthur Sze and others, considering ecology as an archetype for the way in which poems arise and take shape. We will also build momentum with nature walks, discussions about theory and form, free writing exercises and writing from prompts. A portion of this intensive will be devoted to workshopping participants' poems. Please bring two of your own Eco poems that you would like to share with the group (no more than 30 lines each, in 12pt font, with copies for everyone in the workshop).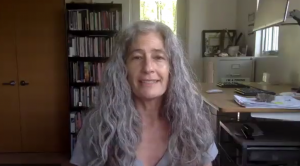 Click image to watch an interview with Elizabeth Jacobson
Sean Murphy
Dimension in Fiction, Creative Nonfiction & Memoir
In this course we'll examine the elements that make up a fully dimensional work of fiction, memoir, or creative nonfiction.  Creating strong fiction requires attention not only to primary elements of plot and character, as well as subplot and secondary characters, but attention to aspects such as style and tone, sense of place, sensory detail, and thematic ideas, as well as literary devices like imagery and symbolism, metaphor, personification and foreshadowing… and more. We'll work together in exploring how varying and combining such elements provide a varied palette of writerly techniques in creating a fully realized piece of writing.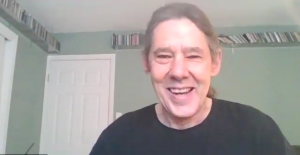 Click the image to watch an interview with Sean Murphy
Jean Marie Saporito
The Craft of Revision
You have a solid piece of writing, but your work doesn't read like their work. What to cut, what to add, how does one make their prose better? This workshop will focus on specifics techniques to evaluate and elevate your prose. Close reading of published fiction and nonfiction authors, such as Annie Proulx, Leslie Jamison, Michael Ondaatje, and Anne Carson, will be used as a starting point for discussion. Hand-outs will be provided.
ROUNDTABLES
The Taos Writers Conference offers lunchtime Roundtables on Saturday, Day 2 only.
These value-added lunch events are informative and free to attend. Bring your brown-bag lunch to the group discussions with local experts on topics of interest in the literary world.
Day 2
SATURDAY
July 25, 2020
12​:00 – 1:00
Guidelines & Suggestions for Preparing Your Manuscript
by Editor, Helen Rynaski
Day 2
SATURDAY
July 25, 2020
1:00 – 2:00
Open Tues-Fri  10am-4pm; Sat 10am-2pm  575.758.0081  108 Civic Plaza Drive
Mailing Address: P.O. Box 3225, Taos, NM 87571
THANK YOU TO OUR FUNDERS
SOMOS programs are made possible in part by these organizations: New Mexico Arts • Taos Community Foundation • The McCune Foundation • The National Endowment For The Arts • The Virginia Wellington Cabot Foundation • The Peter And Madeleine Martin Foundation for the Arts • The Santa Fe Community Foundation • Taos County Lodgers Tax • The Richard B. Siegel Foundation • TaosNetLLC for high speed internet service