For two decades, SOMOS sponsored a successful six- to eight-week Winter & Summer Writers Series, which highlighted local, regional, and occasional national writers and poets. In the fall of 2017, we decided to change the series to quarterly and recruit only nationally and internationally known writers and poets. Since our move to Civic Plaza Drive, with its enlarged space, we have begun hosting ongoing readings from both local and regional writers. Our shift to a quarterly Writers Showcase brings authors—many of whom we hadn't been able to attract in the past—to Taos for both readings and workshops.
To inaugurate the series, we presented best-selling author Tommy Orange on January 5, 2018, to a sold-out audience; he read from his as-yet-unpublished There, There. In April, we collaborated with the Taos Jazz Bebop Society to host Pulitzer Prize–winning poet Tyehimba Jess, accompanied by the John Rangel Trio. Our keynote speaker for the second annual Taos Writers Conference was novelist, essayist, and memoirist Kate Christensen, and we completed our series with a reading and workshop by Naomi Shihab Nye in the fall of 2018.
In 2019, we started off the series with Pulitzer Prize–winning biographer Caroline Fraser, author of Prairie Fires. We followed in April with award-winning poet Jamaal May (Hum). In May, we featured Mexican-American author Francisco Cantú, whose book The Line Becomes a River reflects on his four years as a U.S. Border Patrol agent. His presentation addressed border and immigration issues in collaboration with two local advocacy groups, Taos United and Taos Immigrant Allies. Arthur Sze was the keynote speaker for the third annual Taos Writers Conference, in July 2019.
The first Writers Showcase author of 2020 was Chigozie Obioma, winner of the inaugural FT/Oppenheimer Award for Fiction, the NAACP Image Awards for Debut Literary Work, and the LA Times prize for First Fiction, and was a finalist for the Man Booker Prize 2015. Obioma read at the Harwood Museum of Art on February 14, 2020.
The last writer on our 2020 Writers Showcase schedule was biographer and nonfiction writer, Holly George-Warren, reading from her most recent publication on Janis Joplin, Janis:  Her Life and Music.
In 2021 we invited poet Ada Limón for Poetry Month, Luci Tapahonso to be the keynote speaker for our 5th Annual Taos Writers Conference, and presented E.J. Levy, author of Love In Theory and The Cape Doctor for Prose month in November. 
Showcase writers for 2022 include Kirk Wallace Johnson, Camille Dungy, Ana Castillo, Luis Alberto Urrea, Lan Samantha Chang, and Steve Almond.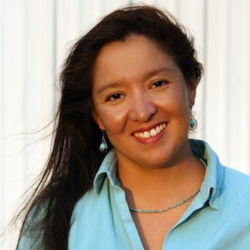 Ramona Emerson
2023 Taos Writers Conference Keynote Speaker
Friday, 7/7/23 (Taos Writers Conference)
Ramona Emerson is a Diné writer and filmmaker originally from Tohatchi, New Mexico. She has a bachelor's in Media Arts from the University of New Mexico and an MFA in Creative Writing from the Institute of American Indian Arts. She currently resides in Albuquerque, New Mexico, where she and her husband, the producer Kelly Byars, run their production company Reel Indian Pictures. Shutter is her first novel.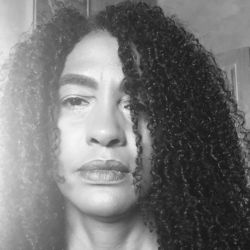 Loida Maritza Pérez
2023 Writers Showcase Author
Saturday, 8/19/23
A native of the Dominican Republic, a 2022-2023 National Leaders of Color Fellow, and a 2023 WESTAF BIPOC Artist Fund Awardee Loida Maritza Pérez is an independent scholar, cultural activist and author of Geographies of Home, a novel published in the United States and abroad. Her upcoming book, Beyond the Pale, won a PEN America 2019 Jean Stein Grant for Literary Oral History. Her most recent publication focuses on themes of immigration. She will present a reading and offer a Q&A. This is a free event.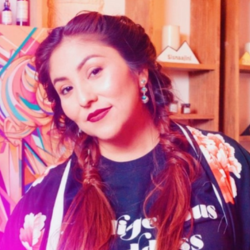 Kim Delfina Gleason
Artistic Director, Two Worlds: Native Theater & Performing Arts
Saturday, 10/14/23 (Taos Storytelling Festival)
Two Worlds is dedicated to the craft of performing arts expressing the duality of the contemporary American Indian through drama, comedy and storytelling. Two Worlds is on a mission to empower Native communities through performance art that is of, by, and for Native Americans.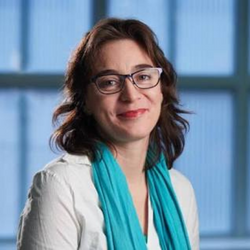 Kinari Webb
2023 Writers Showcase Author
Friday & Saturday, 11/3/23 – 11/4/23
Kinari Webb is an American physician who founded Health in Harmony in 2005 to support her work in Indonesia after studying orangutans at Gunung Palung National Park. Dr. Webb graduated from Yale University School of Medicine with honors. Her book Guardians of the Trees was published in 2021.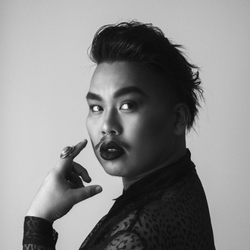 Paul Tran
2023 Writers Showcase Author
Friday & Saturday, 4/14/23-4/15/23

Paul Tran is the author of the debut poetry collection, All the Flowers Kneeling, from Penguin in the US and the UK. They are a Visiting Faculty in Poetry at Pacific University MFA in Writing and a Wallace Stegner Fellow in Poetry at Stanford University.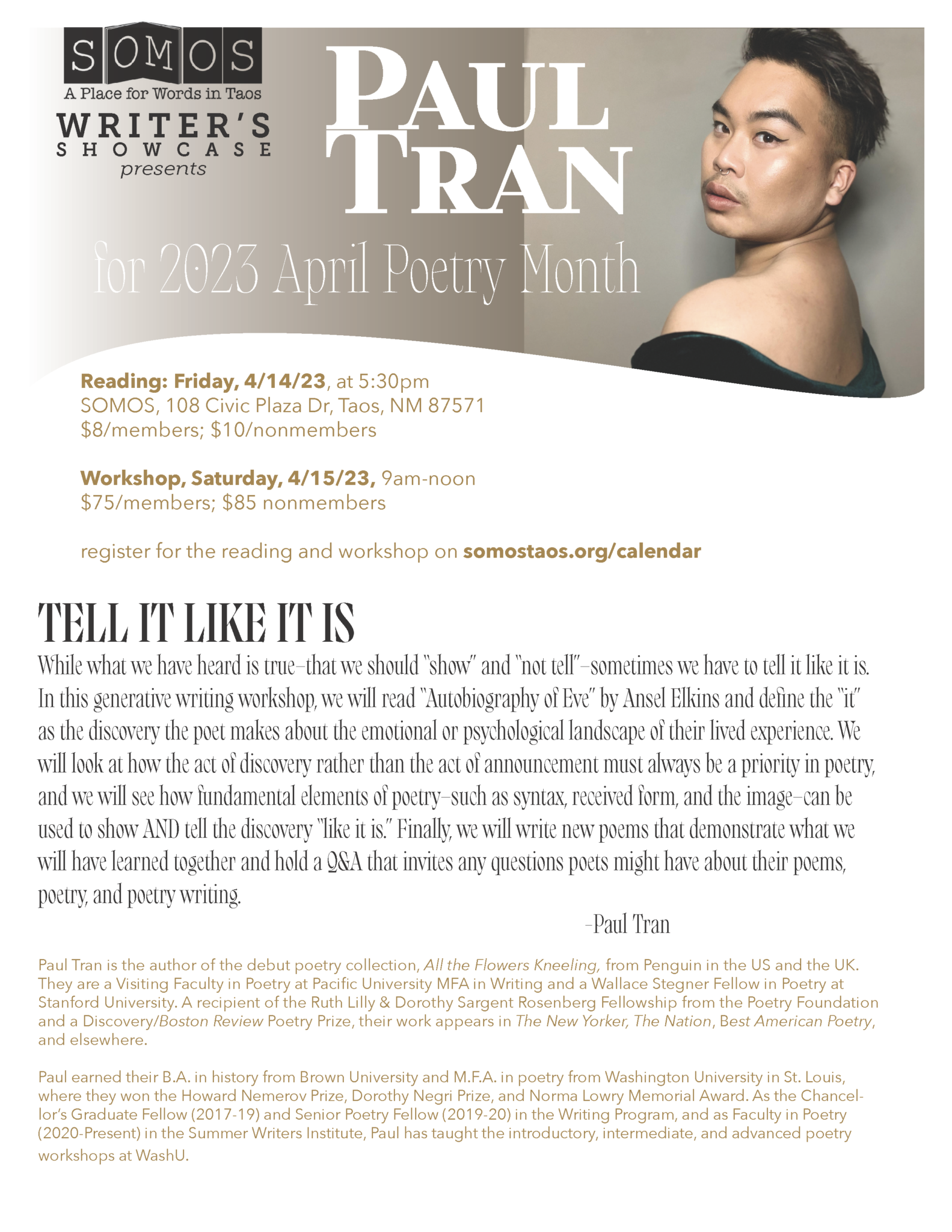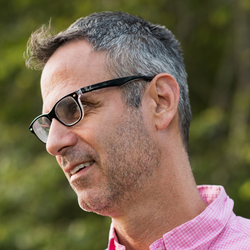 Steve Almond
2022 Writers Showcase Author
Friday & Saturday, 11/11/22-11/12/22

Steve Almond is the author of a dozen books, including the New York Times Bestsellers Candyfreak and Against Football. His new novel, All the Secrets of the World, has been optioned for television by 20th Century Fox. He teaches at Harvard and Wesleyan.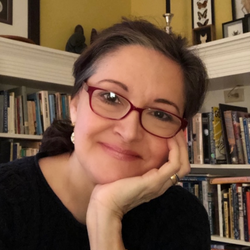 Carmen Agra Deedy
2022 Writers Showcase Author
Thursday & Saturday, 10/13/22-10/15/22

Carmen Agra Deedy is the author of twelve books for children and her personal stories first appeared on NPR's All Things Considered. She is host of the four-time Emmy-winning children's program, Love That Book!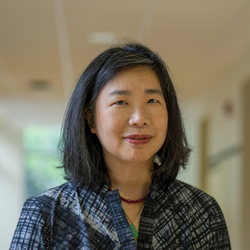 Lan Samantha Chang
2022 Writers Showcase Author
Friday & Saturday, 10/7/22-10/8/22
Lan Samantha Chang is the author of the story collection Hunger and three novels. She has received fellowships from the National Endowment for the Arts and the Guggenheim Foundation. Samantha teaches at and directs Iowa Writers' Workshop.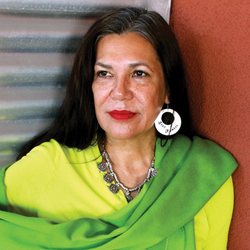 Ana Castillo
2022 Writers Showcase Author
Keynote Speaker, 6th Annual Taos Writer's Conference
Friday, 7/29/22 at 7pm MT
Ana Castillo has received a 1987 American Book Award from the Before Columbus Foundation, a Carl Sandburg Award, a Mountains and Plains Booksellers Award, a fellowship from the National Endowment for the Arts in fiction and poetry and the Sor Juana Achievement Award by the Mexican Fine Arts Center Museum in Chicago.
Open Tues-Sat  12pm-4pm  575.758.0081  108 Civic Plaza Drive
Mailing Address: P.O. Box 3225, Taos, NM 87571
THANK YOU TO OUR FUNDERS
SOMOS programs are made possible in part by these organizations: New Mexico Arts, a Division of the Department of Cultural Affairs, and by the National Endowment for the Arts • Taos Community Foundation • The McCune Foundation • The National Endowment For The Arts • The Virginia Wellington Cabot Foundation • Taos County Lodgers Tax • TaosNetLLC for high speed internet service  • LANL (Los Alamos National Labs)  • New Mexico Humanities Council • Frost Foundation • Witter Bynner Foundation • Amazon Literary Partnership • Literary Emergency Fund