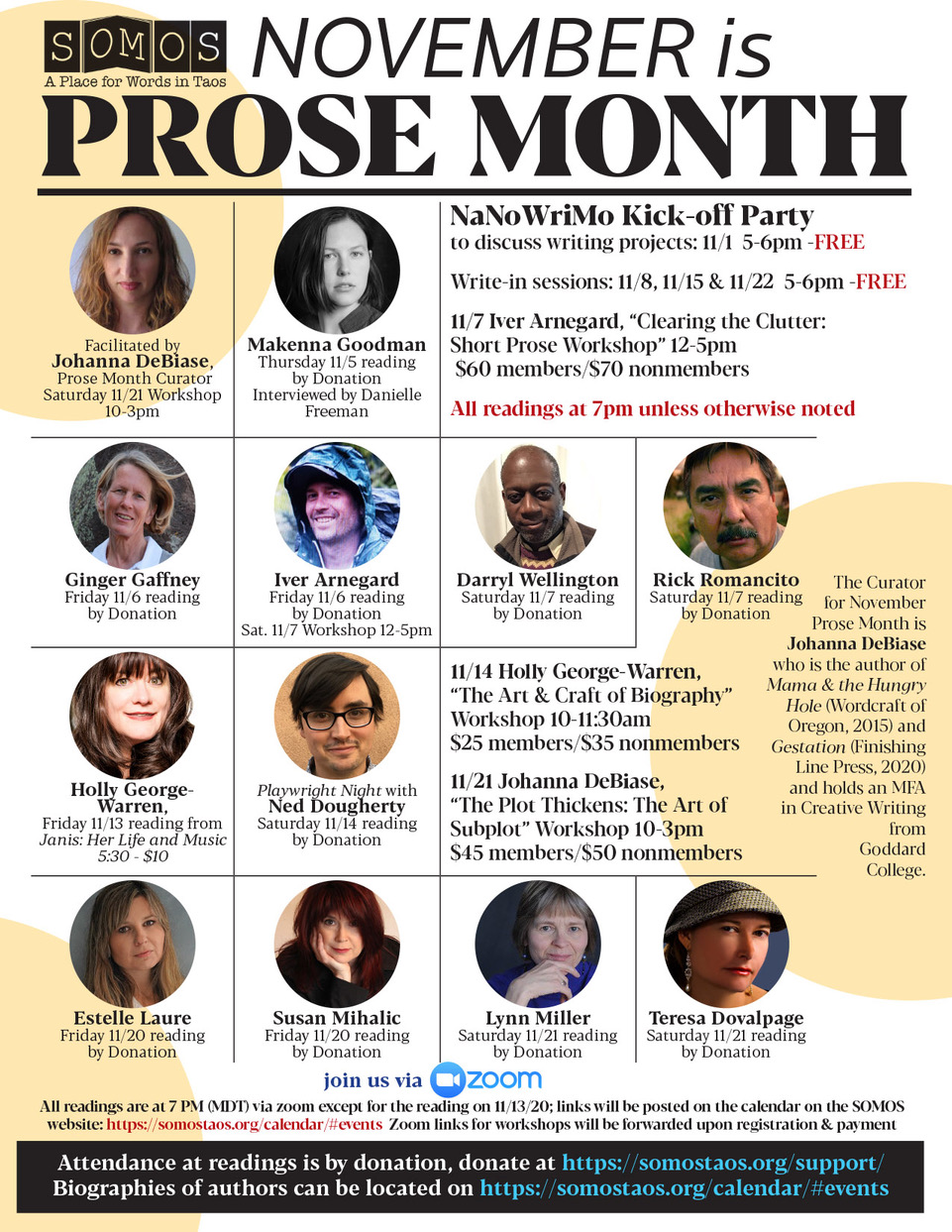 SOMOS began a month-long celebration, Prose Month, in November 2017, to coincide with NaNoWriMo month (a national write-a-novel-in-a-month project) to highlight and acknowledge local and regional prose writers in all genres: fiction, creative nonfiction, memoir, essays, writing for children/young adults, playwrights, graphic novels, and screenwriting, among others. For the past two years there have been 9-10 readings during November with multiple authors sharing the stage coupled with open "write-in" times for people aspiring to write their novel within a month. In both of the previous years various workshops were also offered: "Jump Start Your Novel;" "Secrets of Successful Fiction and Creative Nonfiction Writing;" & "Guided by Light, Nature Writing." In 2018 Prose Month started with a potluck for NaNoWriMo participants and offered continuous support throughout the month, by the curator, Johanna DeBiase.
Some of the writers highlighted in the past include Susan Mihalic, Linda Lightsey Rice, Michael Benanav, Ron Cooper, Natachee Momaday Gray, Jill Scott Momaday & Rick Collignon, among others.
For 2020 Johanna DeBiase continues as the curator and has recruited prose writers to read from new work, including those beyond Taos and Northern New Mexico.       
Open Tues-Sat  12pm-4pm  575.758.0081  108 Civic Plaza Drive
Mailing Address: P.O. Box 3225, Taos, NM 87571
THANK YOU TO OUR FUNDERS
SOMOS programs are made possible in part by these organizations: New Mexico Arts • Taos Community Foundation • The McCune Foundation • The National Endowment For The Arts • The Virginia Wellington Cabot Foundation • The Peter And Madeleine Martin Foundation for the Arts • The Santa Fe Community Foundation • Taos County Lodgers Tax • The Richard B. Siegel Foundation • TaosNetLLC for high speed internet service  • LANL (Los Alamos National Labs)  • New Mexico Humanities Council