Purchase a gift certificate to SOMOS for yourself or a loved one! Choose your amount below and be sure to include the recipient's name and mailing address.
March 17, 2020
To all friends of SOMOS:
For everyone's safety and health concerns we are closing SOMOS and the bookshop until at least 4/7/20.  SOMOS remains committed to supporting the written and spoken word and wish to offer online services to our community of readers and writers. We remain open for business in the following ways:
1) Take-out book orders: If you have titles, genres, and/or authors that you specifically want to purchase please call us at 575-758-0081 to place a book order during the hours of 10-2 PM.  We will search for them and call you back with our results.  You can purchase them over the phone via credit card. We will arrange a pickup time outside SOMOS' back door/parking lot for delivery. We can also consider them as book requests and will notify you if we find them in our overstock section or donations.
2) If you come to the back door of SOMOS and ring the bell we can provide the same service from 10-2 PM as you wait for us to search your book(s).  Cash, check or credit card can be used for these purchases.
3) Donations of children's and young adult books only will be gratefully received (so that we can donate to families with school-age children).
4) We are converting existing classes & workshops to online Zoom meetings – including Poetry Month readings.  We will send out a link to the Zoom meetings as they are scheduled. 
5) The SOMOS website now offers the opportunity to purchase Bookshop gift certificates (at the link above) – to be used for online orders and/or when the Bookshop reopens. 
6) SOMOS will be initiating an online "Book of the Month" club on April 1st with a Zoom meeting at the end of the month for an online book discussion.  
For more information on proposed virtual programming in the coming weeks, read the full announcement on our homepage and subscribe to our newsletter below. 
The SOMOS Bookshop has been in existence for so long that no one can recall exactly when it began. Dori Vinella, a long-time executive director, remembers that Phyllis and Sy Hotch used to sell books outside the SOMOS office when it was in the old Smith's building. Since then, the store has been stocked solely with used books donated by members and the public, as well as new books by local/regional authors.
Joyce Franklin was the curator of the books until she passed the baton to Danielle Freeman in 2008. At that time, the office was open 15 hours a week, and books were sold for three hours one Saturday a month. Gradually the SOMOS office hours expanded, and eventually books were sold whenever SOMOS was open.
Our collection of used books now numbers in the thousands, categorized into nearly 70 sections. The books of local and regional authors have greatly expanded, and there is an archive collection of books by Taos literary celebrities. Monthly specials entice customers to buy from overstocked categories. Throughout the years, proceeds from book sales have made critical contributions to rent and other SOMOS expenses.
New books by local/regional authors: The rich abundance of Taos-area authors is on display in the front window and near the front door. These are new books, sold at full retail plus tax.
Donations of books are gladly accepted but only during store hours. There is a three-box limit for each delivery unless special arrangements are made with SOMOS staff. All books, CDs and DVDs that are clean and in reasonably good condition are welcome—except for textbooks, romance novels, VHS videos, cassettes and magazines.
Free books are available on bookcases outside on the front and back portals.
Book searches can be undertaken if we don't have (or can't find) a book you want. You can request that the volunteer at the desk write the book title and your contact information in the Search Notebook. You will be contacted when/if the book appears. This can be a long shot, but there have been many successful finds.
Glass display-case contents are revolving selections from our archives. The case is located in front of the main desk.
Prices
(some items are individually priced)
Hard and softcover—$3 each
Mass-market books—50¢ each or five for $1
Children's/young-adult hardcover—$1
Children's/young-adult softcover—50¢
CDs—50¢
DVDs—$1
Hours
Tuesday through Friday 10 a.m. to 4 p.m.
Saturday 10 a.m. to 2 p.m.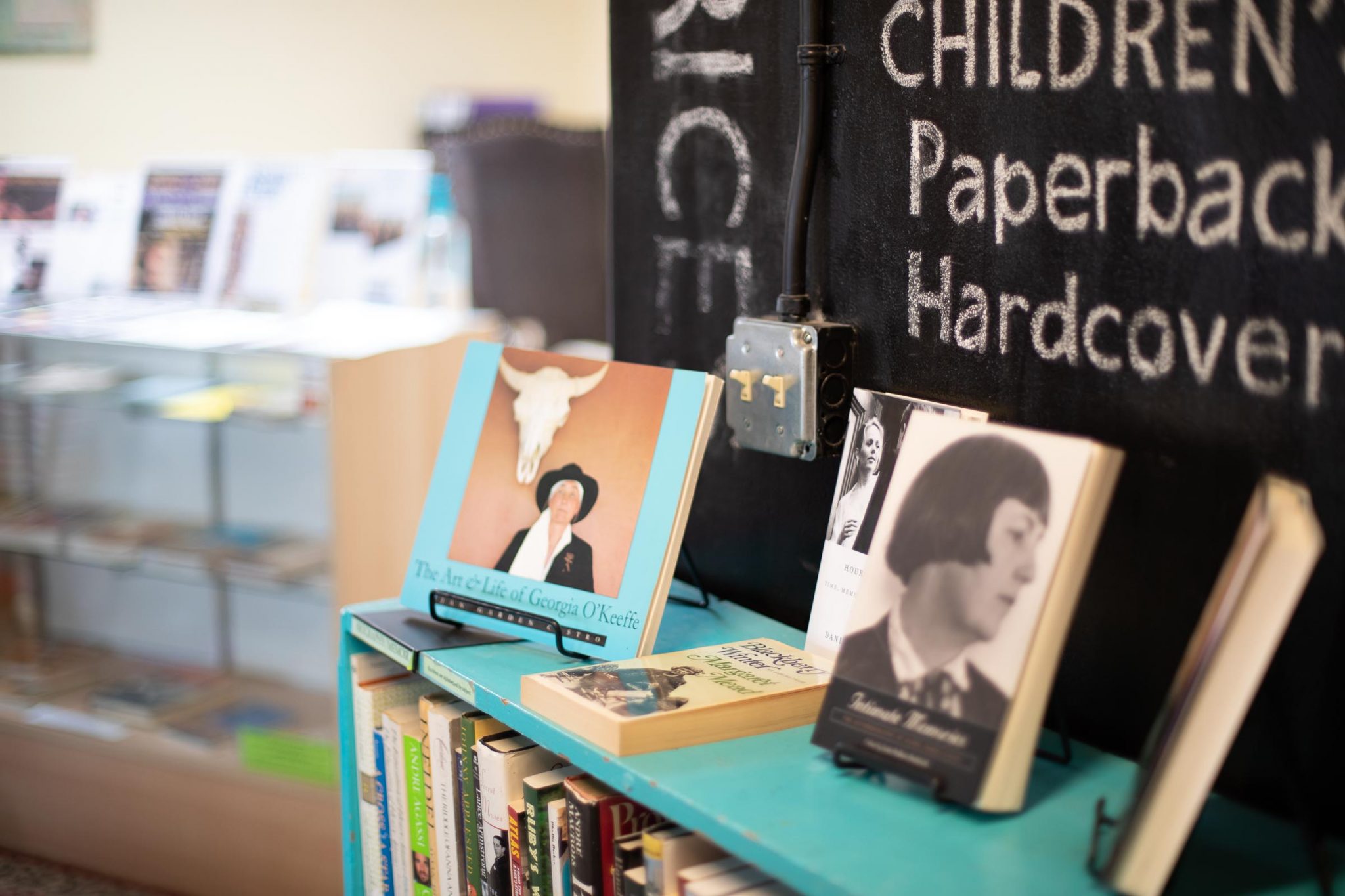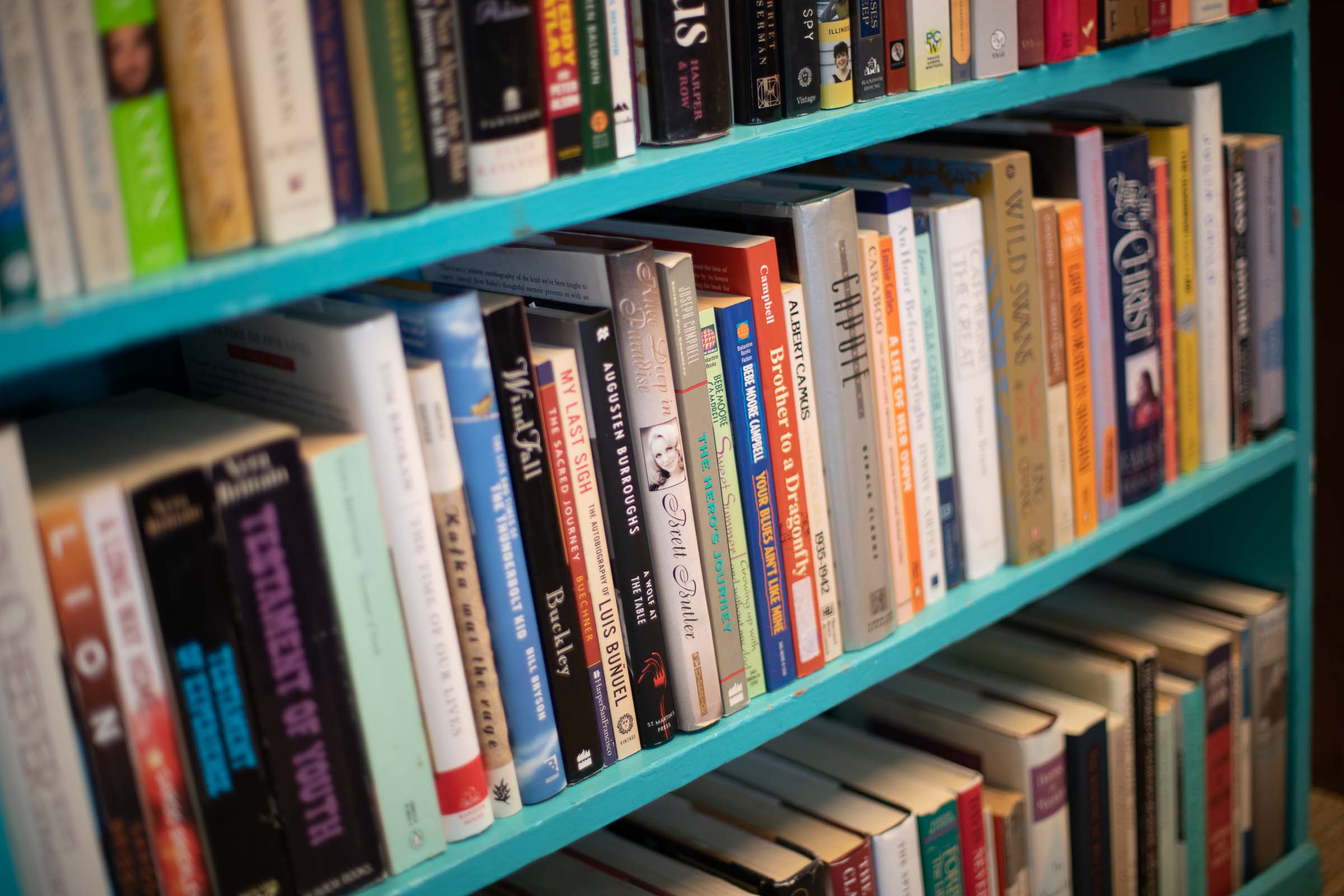 Open Tues-Fri  10am-4pm; Sat 10am-2pm  575.758.0081  108 Civic Plaza Drive
Mailing Address: P.O. Box 3225, Taos, NM 87571
THANK YOU TO OUR FUNDERS
SOMOS programs are made possible in part by these organizations: New Mexico Arts • Taos Community Foundation • The McCune Foundation • The National Endowment For The Arts • The Virginia Wellington Cabot Foundation • The Peter And Madeleine Martin Foundation for the Arts • The Santa Fe Community Foundation • Taos County Lodgers Tax • The Richard B. Siegel Foundation • TaosNetLLC for high speed internet service