Purchase a gift certificate to SOMOS for yourself or a loved one! Choose your amount below and be sure to include the recipient's name and mailing address.
"Secondhand books are wild books, homeless books; they have come together in vast flocks of variegated feathers, and have a charm which the domesticated volumes of the library lack." – Virginia Woolf
The SOMOS Bookshop has been in existence for so long that no one can recall exactly when it began. Dori Vinella, a long-time, past executive director, remembers that Phyllis and Sy Hotch used to sell books from a card table outside the SOMOS office when it was in the old Smith's building. Ever since that humble beginning, the store has been stocked by the generous donations of SOMOS members and the Taos community. Additionally, brand new books by local/regional authors are also for sale. Danielle Freeman has been the Bookshop's curator since 2007.
The Bookshop is staffed by devoted volunteers who serve either as book sellers or who organize, dust and shelve the books. The location after the old Smith's building was across Paseo del Pueblo in a very small, run-down office on the north side of the Enchanted Florist. Then there was the nicer, larger yoga studio on the south side of the florist. In 2016 we moved to our present location. In the beginning, books were sold for only three hours on the first Saturday of the month. Gradually the SOMOS office hours expanded, and eventually books were sold whenever the SOMOS office was open.
Our collection of used books now numbers in the many thousands, categorized into more than 70 sections. New books are offered by dozens of local and regional authors. "Specials" encourage customers to buy from overstocked or overlooked categories. Throughout the years, proceeds from book sales have made critical contributions to rent and other SOMOS expenses.
The Bookshop can be entered through the front door on Civic Plaza Drive or from our free parking lot (reached by going West on Martyr's Lane, which seems more like an alley). You will encounter a vast array of book cases of various sizes and styles. A green shelf label designates each section. Most sections will be arranged in alphabetical order by author or by topic.
New books by local/regional authors: The rich abundance of Taos-area authors is on display in the front window and near the front door. These new books are sold at full retail price plus tax.
Donations of books are gladly accepted during store hours. There is a three-box limit per week unless special arrangements are made with SOMOS staff. All donations that are clean, with few underlines, without sticky notes and are in good enough condition for resale are welcome—EXCEPT for textbooks, workbooks, literary reviews, VHS videos, cassettes, records, and knick-knacks. Magazines can be dropped off at the free book cases.
*Please contact SOMOS prior to donating books to make sure we are not having a donation moratorium which can happen when our storage space has reached capacity.
Free books are available on bookcases outside on the front and back portals. They are deemed "free" when we have too many of a title, are in poor condition or are not likely to sell. Magazines can be donated here.
Book searches can be undertaken if we don't have (or can't find) a title you want. You can request that the volunteer write the book title and your name and contact information in our Search Notebook. You will be contacted when/if the book appears. This can be a long shot, but there have been many successful finds.
Books in the glass display case have higher value than regularly price books. They are marked below online prices. This case is located in front of the main desk.
Prices
Hard and softcover—$3 each
Mass-market books—50¢ each
Children's/young-adult hardcover—$1
Children's/young-adult softcover—50¢
CDs—50¢ each DVDs–$1 each
Hours
Tuesday – Saturday Noon to 4pm
"I'm a real self-educated kind of guy. I read
voraciously. Every book I have ever bought, I have. I can't
throw it away. It's physically impossible to leave my hand!
Some of them are in warehouses. I've got a library where I keep
the ones I really like. I look around my library some nights and
do these terrible things to myself—I count up the books and
think, how long I might have to live and think "Fuck, I can't
read two-thirds of these books. It overwhelms me with
sadness." – David Bowie
—
"I've just surfaced from spending several days in a
state of rapture—with a book. I loved this book. I loved every
second of it. I was transported into its world. I was reminded
of all sorts of things in my own life. I was in anguish over the
fate of its characters. I felt alive, and engaged, and positively
brilliant, bursting with ideas, brimming with memories of other
books I've loved. I composed a dozen imaginary letters to the
author; letters I'll never write, much less send. I wrote letters
of praise. I wrote letters relating entirely inappropriate
personal information……I even wrote a letter of recrimination
when one of the characters died and I was grief stricken. But
mostly I wrote letters of gratitude: the state of rapture I
experience when I read a wonderful book…….it doesn't happen
every time or even every other time, and when it does happen,
I'm truly beside myself." – An excerpt from I Feel Bad About My Neck by Nora Ephron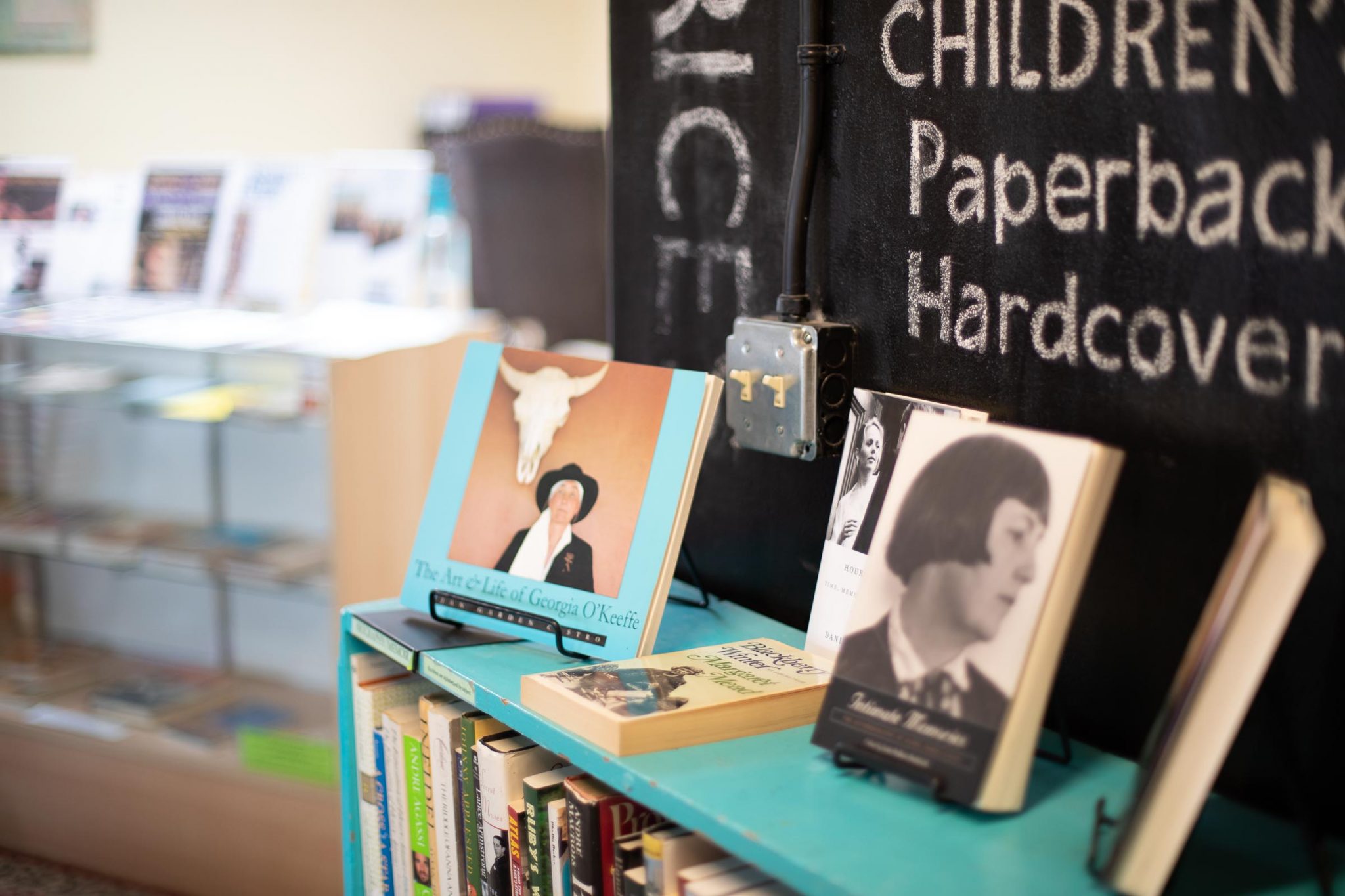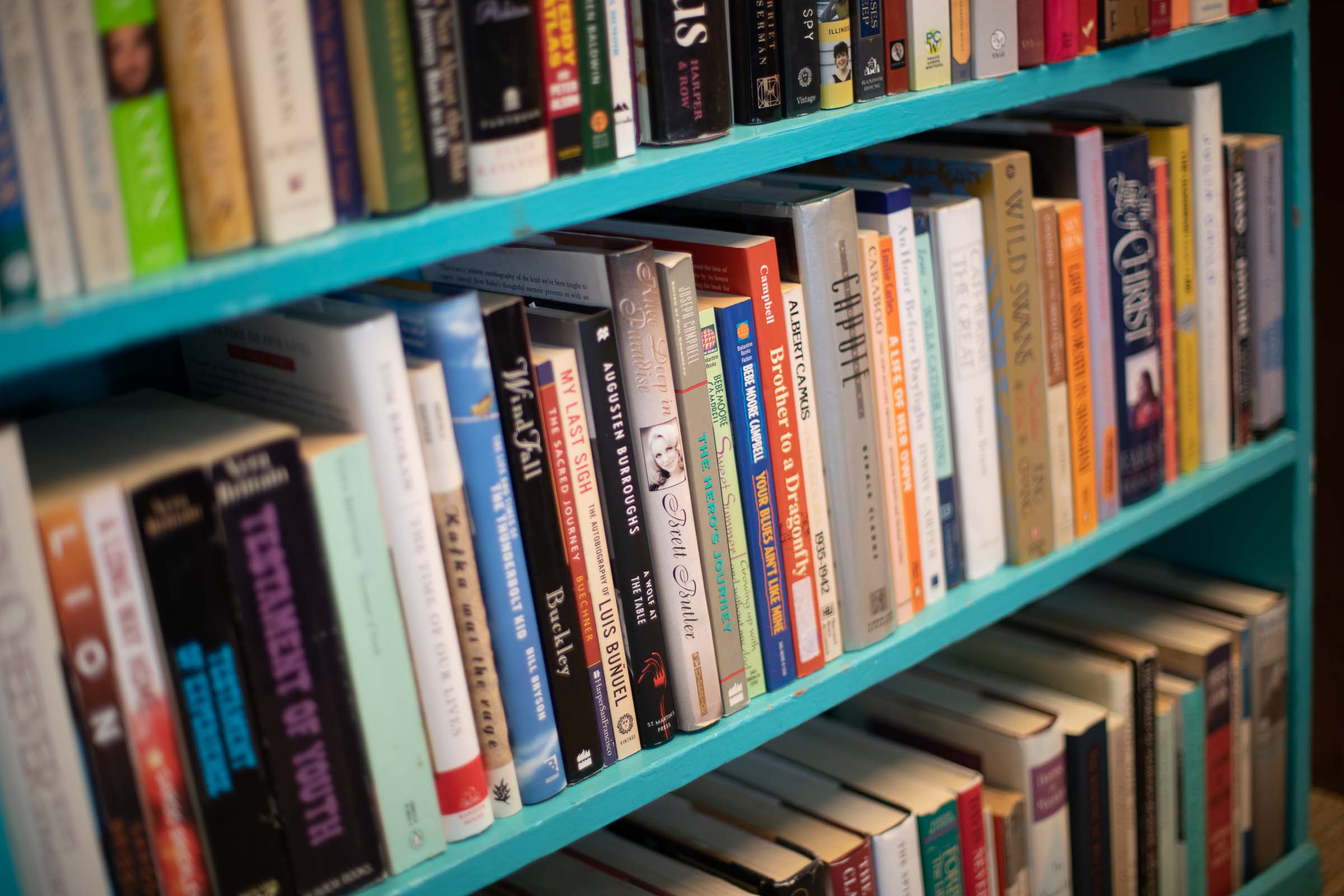 Open Tues-Sat  12pm-4pm  575.758.0081  108 Civic Plaza Drive
Mailing Address: P.O. Box 3225, Taos, NM 87571
THANK YOU TO OUR FUNDERS
SOMOS programs are made possible in part by these organizations: New Mexico Arts, a Division of the Department of Cultural Affairs, and by the National Endowment for the Arts • Taos Community Foundation • The McCune Foundation • The National Endowment For The Arts • The Virginia Wellington Cabot Foundation • Taos County Lodgers Tax • TaosNetLLC for high speed internet service  • LANL (Los Alamos National Labs)  • New Mexico Humanities Council • Frost Foundation • Witter Bynner Foundation • Amazon Literary Partnership • Literary Emergency Fund